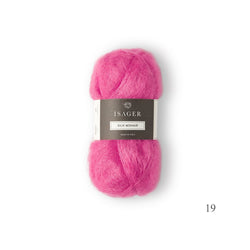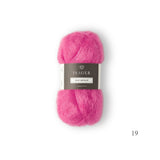 Isager Silk Mohair - Laceweight - New colours
Isager silk mohair is a glorious  blend of 75 % super kid mohair and 25 % silk in a range of off palette colours to  combine with other yarns in the Isager range. 
This  yarn has a very furry surface and is perfect for knitting together with other Isager smoother yarns to create your own blend of fibres and colour combinations. It works equally well on its own for soft scarves and and sweaters.
Recommend knitting needles:
Knitting needle, mm: 3,5 or 4 used individually
When knitting with Isager Spinni held together 4 - 6mm needles
When knitting with Isager Tvinni held together 4 - 7 mm needles.
When knitting with Isager Tweed held together 4 - 7mm needles
The yarn can be knitted on larger needles to create a light and open knit.
Weight 25g
Length 212m / 
Handwash

The yarn is spun and dyed in Italy as part of the Isager yarn collection.