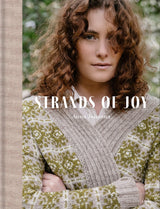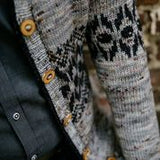 This book is fabulous!
This is Anna Johanna's first book, a former Statistician Anna is now well known for her wearable romantic designs
Strands of Joy has 20 modern colourwork patterns for men and women which have been sized up to a 60 inch bust.
The patterns are worked top down for a seamless finish to suit different levels of required concentration something gentle and mindful of more complicated to distract and keep you focused.
The book contains:
- 176 pages
- 20 colorwork knitting patterns (10 sweaters, 7 cardigans, 1 dress, 1 hat, 1 kid's pullover)
- hardcover
- size: 205 x 270 x 19 mm