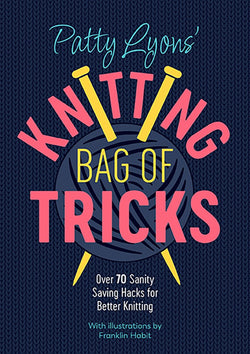 Knitting Bag of Tricks - Patty Lyons
 If you have started your knitting journey and are stumbling a little this book is sure to help resolve your mistakes and help you avoid future pitfalls.
This book really is the next step from a How to book you might own....A Knitting Bag of Tricks is sure to take your knitting to the next level
Solve your knitting problems—from edges that won't behave to getting your yarn tension right—with over 70 brand new knitting hacks! Inspired by questions asked by Patty's students from around the world, this book features tutorials for knitters of all levels. It also features over 200 technical illustrations to help you learn new skills with clear step-by-step instructions.
Graphics by fan-favourite illustrator Franklin Habit and Patty's own humorous 'purls' of wisdom will resonate with knitters of all abilities and have you laughing while you learn.
 Paperback