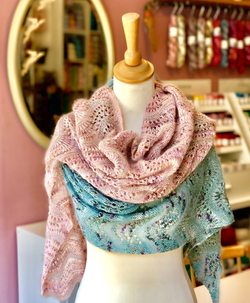 Martha Knitting Pattern by Sarah Goodwin
Martha is an old Arabic name meaning Lady and features in the Old Testament.
This confection of loveliness is much easier to knit than the gorgeous combination of yarn might suggest as it is a repetition of 16 rows.
This is project would suit someone who has not knitted with fine lightweight yarns before or an experienced knitter who would like to create that wow factor! Perfect for a Summer wedding or a day at the races.
This version has been made in core sock by Fine Fish and rico mohair with silk. 
We used a skein of Thunder Dome and Heartstrings combined with a ball of shade 
003 and 006 of the mohair
The price is for a hard copy printed on good quality paper.