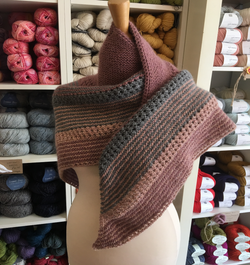 Hetty Knitting Pattern by Sarah Goodwin
Sarah has created a collection of shawls designed to help the knitter increase her skills, accessible , wearable and look amazing in any weight or fibre.
The Sarahmeaning of Hetty is 'Keeper of the hearth' This shawl is an introduction to a symmetrical using simple stitches with some yarn overs learnt with the Ida's House Shawl.
The rhythm of the garter stitch is soothing and gratifying, perfect knitting for the end of a busy day. 
This version is knitted in a double knit alpaca, warm and comforting like sitting by a fire, experiment with stripes and your own colour combinations.
The price is for a printed version on good quality paper.